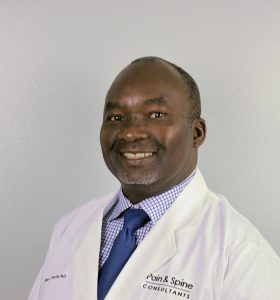 Dr. Nwofia started his post-medical school training in the United Kingdom, in Orthopedic Surgery, from May 1990 until his move to the United States in June 1994. He completed an internship in Family Practice at the Henry Ford Hospital in Detroit between June 1994 and June 1995. He then completed a residency in Physical Medicine and Rehabilitation at the Schwab Rehabilitation Hospital/University of Chicago Hospitals program between 1995 and 1998 where he served as a chief resident in his last year.
Dr. Nwofia is an interventional physiatrist and rehabilitation specialist and specializes in the evaluation and treatment of non-surgical spinal and musculoskeletal disorders. He is (ABMS) board certified with the American Academy of Physical Medicine and Rehabilitation (AAPM&R) in Physical Medicine & Rehabilitation and the subspecialty of Pain Medicine.
Dr. Nwofia's areas of interest include the treatment of spinal disorders and chronic spine-related pain management with the use of Spinal Cord Stimulation devices. He is also experienced in, and offers minimally invasive procedures/surgeries like SIJ fusion and percutaneous decompression procedures for lumbar disc herniation and stenosis. Dr. Nwofia also treats patients with spine fractures with kyphoplasty and vertebroplasty.
For the last 10 years, Dr. Nwofia has trained several physicians in a 12 month fellowship program in interventional pain management. Some of these physicians are successfully practicing in the middle Tennessee area and in some other parts of the country.
Dr. Nwofia lives with his wife and kids in the Brentwood area. In his spare time he likes to travel and is also an enthusiast of the Shotokan Karate style.
Undergraduate Institution
Professional Society Memberships